Vacuum packaging
Maximize your production output with Vacuum by Busch.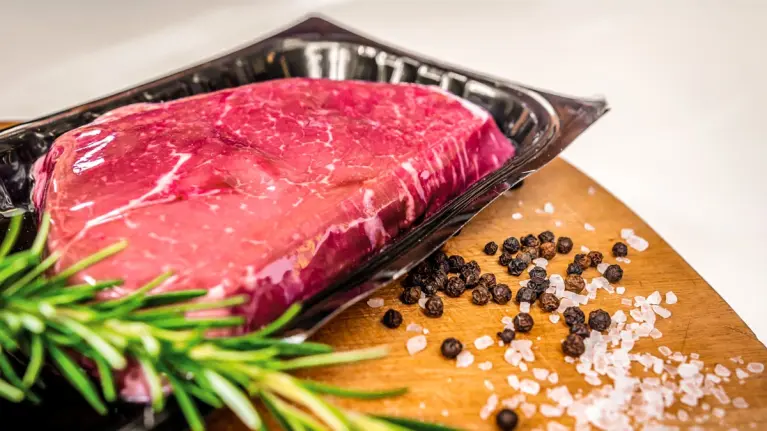 Vacuum packaging. A packaging process in which air is extracted from the package prior to sealing.

The use of vacuum was one of the most groundbreaking advances in the packaging industry. And Busch was pioneer in this field.
In 1963, Dr Karl Busch developed the first vacuum pump to be used for vacuum packaging of foodstuffs, our rotary vane vacuum pump HUCKEPACK. With the follow-up product, the R5, we revolutionized food packaging.

Today, Busch is the market leader and industry standard for vacuum packaging. With our energy-efficient solutions, you can improve your packaging process, increase quality and maximize your output. Day by day millions of our vacuum pumps prove their robustness and reliability in packaging applications around the world.
Busch is an active partner, acting quickly on our needs. Great partnership.
Market Leader

More than 3 million R5 vacuum pumps in operation worldwide.
Continuous development and improvement.
Already the sixth innovation cycle of R5 rotary vane vacuum pumps.

High uptime

Built-to-last vacuum pumps.
Outstanding lifetime of more than 30 years.
Quick service response time.
Learn more about vacuum packaging
What is vacuum packaging?
Vacuum packaging is the technique of removing air from a package containing a product, usually food, before it is sealed airtight. The air and thus the oxygen are extracted, and the product is conserved.
How does a vacuum packaging system work?
The product to be packaged is placed in a bag, on a tray or between two vacuum-tight foils. Inside a vacuum chamber or a sealing station, this package is then evacuated by means of a vacuum pump. After reaching the respective target vacuum, the package is sealed. For certain products, a specifically defined gas mixture is introduced into the packaging prior to sealing. This is called modified atmosphere packaging (MAP).
Where is vacuum used in the packaging process?
Vacuum frequently plays an essential role in packaging processes. In the production of packages, vacuum is, for example, used for thermoforming. Vacuum is also employed in tray sealing, chamber packaging, thermoforming and bag filling packaging machines and in many other packaging applications. Furthermore, vacuum is used for pick and place during the packaging process, as well as for handling of packages.
What are the advantages of vacuum packaging over alternative packaging technologies?
Vacuum packaging is a cost-effective and economical way of protecting goods – both hygienically and mechanically. The air, and thus the oxygen, are evacuated from the packaging prior to the sealing of the package. This offers the advantage of protecting the packaged goods against the growth of oxygen-dependent bacteria which is especially important when it comes to packaging of foodstuffs. Dehydration of the product is also greatly reduced. Due to the limited contact with oxygen, vacuum-packaged foodstuffs keep their quality, taste, smell, and appearance for a long time and their shelf-life is thus extended.
What are the best vacuum pumps for packaging?
What are the best vacuum pumps from Busch for the packaging process?
The most suitable vacuum generators for packaging are R5 rotary vane vacuum pumps, COBRA dry screw vacuum pumps, PANDA/PUMA vacuum boosters, MINK dry claw vacuum pumps and DOLPHIN liquid ring vacuum pumps. The choice of the optimum product depends on the specific process requirements. But also, on the priorities of the customer.
What are some examples for the use of Busch vacuum technology in packaging applications?
Busch is the market leader in vacuum technology for food packaging. With more than 3 million R5 rotary vane vacuum pumps delivered into the vacuum packaging market worldwide. Our solutions are present in most chamber packaging machines, thermoforming packaging machines, tray sealing machines and bag filling machines throughout the world.
How is vacuum packaging used in the food industry?
The reduction of oxygen in the package by around a factor of 200 achieved by vacuum packaging of fresh foodstuffs makes it possible to maintain the quality, appearance, freshness, and flavor of the packaged product. The growth of aerobic bacteria and thus the oxidation and degradation of the product are prevented. This, in turn, helps to drastically reduce global food waste.

In addition, vacuum packaging allows for an attractive presentation of the product, especially convenience food, at the point of sale with the consumer.

For certain products, a special gas mixture is introduced into the package before it is finally sealed. This technique is called modified atmosphere packaging (MAP).
What are the key points to consider when buying a vacuum system for packaging purposes?
Cycle time, chamber size, evacuation time, uptime, reliability, warm-up time and availability. These are key factors to consider when deciding what packaging machine to purchase. Worth noting are also the manpower required, energy and oil consumption, maintenance, and overhaul costs as well as floor space.

However, there is no one-size-fits-all vacuum packaging solution. For purposes of designing the best solution for your needs, more general factors can also be taken into consideration:

Peace of mind
The best vacuum system is the one you never have to worry about. It should deliver the required performance. And run seamlessly and reliably. This is achieved by choosing the vacuum pump best suited to the application in question and the specific requirements.

Extended lifetime
To extend the lifetime of a vacuum system several factors should be considered. For example, the use of the right technology and the right pump configuration. Another consideration is the proper use of the system. Following the operating instructions and regular maintenance is recommended.

Money savings by system upgrade
Your processes, including the vacuum demand, may have changed. This leads to the questions: Is it still well adapted to your needs? Is it still operating as energy-efficiently as possible? When it is time to upgrade or replace a vacuum system, it is worth looking at the entire installation. Try to identify together with an expert any potential for optimization. Modern technologies can increase productivity and save money by reducing operating costs and energy consumption.
Vacuum packaging in the food industry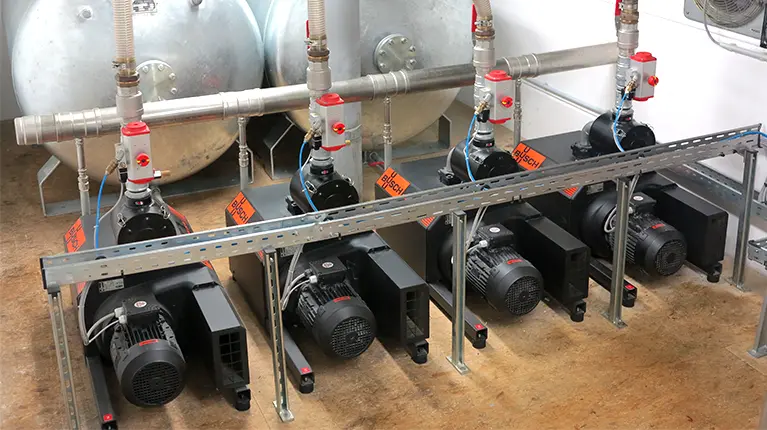 Intelligent use of vacuum for food packaging
Feinkost Dittmann
, a German delicatessen manufacturer, has installed a Busch vacuum system for its packaging machines.
Half the vacuum pumps supply the base load in permanent operation at their optimum point of efficiency. The other vacuum pumps are frequency-controlled to respond to demand fluctuations.
Busch Vacuum Control ensures fine tuning of the pumping speed to match current demand.
Energy consumption has been reduced by more than 70%
compared to simple on/off operation mode.
How does vacuum packaging of foodstuffs work?
Vacuum helps to keep food fresh for a long time. With no loss in quality. Depending on the type of food to be packaged as well as the corresponding requirements, there are several possible processes. Ranging from chamber packaging, thermoforming packaging, or clipped packaging to carousel packaging.

Every vacuum packaging process starts with placing the products in a packaging. Either inside a bag, between an upper and a lower foil, or into a tray. The air, and thus the oxygen, is then evacuated from the packaging before it is sealed. This ensures an extended shelf life of the packaged product due to a reduced growth of oxygen-dependent bacteria. Furthermore, the taste, smell and appearance of the packaged products are preserved. And drying of the foodstuffs caused by evaporation is reduced.
Chamber packaging
Chamber packaging machines are in use for packaging with bags and foils.
Tabletop chamber packaging machines
are mainly used by supermarkets, restaurants, hotels, or caterers. They are perfectly suited for vacuum packaging of small goods.
When it comes to vacuum packaging of medium size products,
free-standing chamber packaging machines
are the installation of choice.
For industrial vacuum packaging of large-format products
double chamber packaging machines
,
conveyor belt packaging machines
and
rotary chamber packaging machines
are used. These types of packaging machines are mainly installed in slaughterhouses, abattoirs, meat processing plants or cheese factories.
Tray sealers
Tray sealers
work with prefabricated trays that are sealed with foils or additional plastic lids.
Thermoforming packaging
Thermoforming packaging machines
also play an important role in packaging of foodstuffs. This process involves forming a tray by heating the lower foil in the packaging machine that is then automatically transported to the packaging chamber. Products can also be packaged in a tubular bag using
tubular bag packaging machines
. In these machines, the foil is welded into a tube and then sealed on both sides.
Modified atmosphere packaging (MAP)
Particularly suitable for the packaging of sensitive fresh food products is the so-called
modified atmosphere packaging (MAP)
. This technique consists of removing the air from the packaging and replacing it by a protective gas. Which allows for example to also reduce the pH value and thus increase the shelf life even further.
In the area of cheese packaging, Busch is our reliable and competent partner.
CENTRAL VACUUM SYSTEMS IN THE PACKAGING INDUSTRY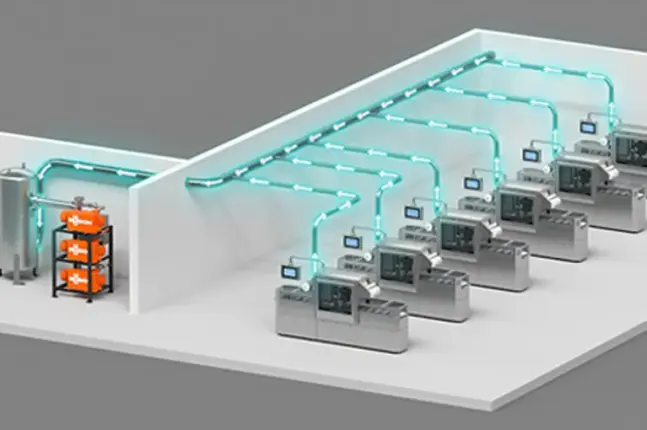 Block House Fleischerei,
a German producer of portioned fresh meat products and burgers, analyzed the energy consumption of its packaging machines when it was being certified according to ISO 50001.
Removing the vacuum pumps from each packaging machine and installing a Busch central vacuum system resulted in a reduction in the total number of vacuum pumps. Moreover, waste heat could be removed from the packaging floor.
Block House now achieves
annual savings in energy costs of over 8,000 Euro
.
What are the benefits of central vacuum systems?
A central vacuum supply offers the potential to reduce operating costs and to increase energy efficiency.

Busch central vacuum systems are in operation throughout the world. In food packaging but also in many other industries.
We offer turnkey solutions tailored to individual process requirements. Including pipework and control installation, together with start-up service and training for the operating team.

Are you looking for a central vacuum system to optimize your packaging process?

Contact our vacuum experts
Vacuum packaging in other industries
How does blister packaging work?
Vacuum can be used for thermoforming of plastic cavities or pockets for blister packaging. The packaging is usually sealed by a paperboard, a lidding seal made of aluminum foil or a printed plastic film allowing to display product information or branding.

Blister packaging has the advantage of exhibiting a product while simultaneously avoiding its contact with external factors such as humidity and contamination. Moreover, tampering of the packaged items can be prevented. If opaque blisters are used, the packaged product can also be protected against UV rays.

Blister packs are often used as unit-dose packaging for pharmaceuticals like tablets or capsules but also for small consumer goods or foodstuffs.

Our solutions
How does liquid packaging work?
Vacuum packaging is not limited to solids. Liquids such as oil, sauces, remoulades or dressings can also be packaged under vacuum.

The packaging of these goods presents special challenges. In order to avoid the leak of the liquids during the packaging process, the bags are positioned vertically or inclined inside the vacuum chamber. Moreover, liquid, or wet products carry the risk of boiling during vacuuming which needs to be prevented in order to avoid damage to the product.

Our solutions
How does currency packaging work?
Vacuum packaging is the most effective and reliable method of storing currencies.

Bundles of a predefined quantity of banknotes are vacuumized. The plastic packaging can then be printed with a seal of the relevant bank or branch and a specific identity code. This makes the transport and storage of the packages traceable and safe. Theft and fraud can be prevented because a manipulated package is easily recognizable by a broken seal and an increase of air inside the plastic bag.

Vacuum packaged, banknotes can be stored in a very compact way as the air is extracted and the volume of the package is thus reduced to a minimum. The packages therefore need less space and can be transported easily.

Moreover, vacuum packaging allows to protect currencies from the harmful influences of moisture or dirt.

Our solutions
How does vacuum packaging of medical devices and equipment work?
Vacuum packaging plays an important role in medical environments where a high level of hygiene is indispensable. Packaged under vacuum, medical equipment is kept safe from accidental spills or splatters and other potential sources of contamination. Vacuum packaging thus helps to keep medical devices, surgical tools as well as personal protective equipment sterile.

It is also an effective way of protecting items from other environmental factors such as moisture. For this reason, it can, for example, help to prevent condensation during storage.

Vacuum packaging is also a quick and space-saving method of packaging. This makes it ideal for hospital use, where items like bedding and clothing need to be stored in a compact manner.