R5
Oil-lubricated rotary vane vacuum pumps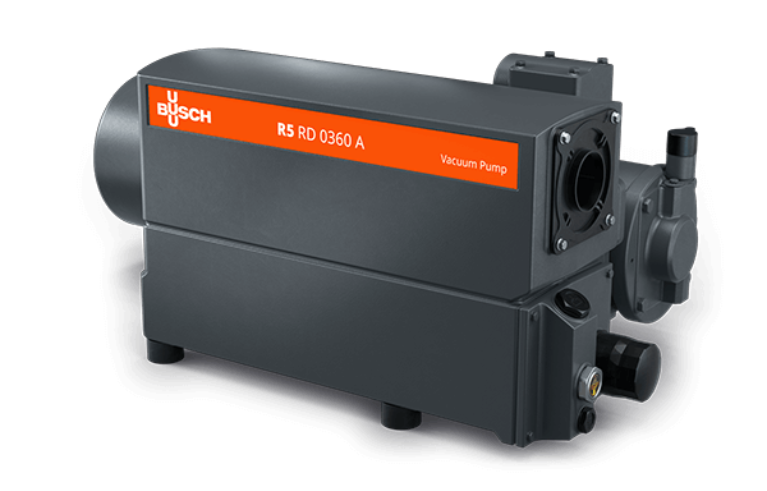 With the invention of the R5 oil-lubricated rotary vane vacuum pump, Dr Karl Busch has revolutionized food packaging. And today, we are the market leader in vacuum packaging.

However, the R5 is not limited to this application but represents the industry standard for a wide range of applications. Every day, over 3 million R5 vacuum pumps are in operation around the globe.
In the course of over 50 years, we have continuously developed and optimized rotary vane technology. Always with a strong focus on energy efficiency.

Throughout the industry, the R5 is known for its robustness and reliability. You can always rely on the R5 – whether used intermittently or around the clock.

A wide range of sizes, design options and accessories ensures that the R5 is the perfect match for many processes.

Maintenance can easily be carried out by the operator. Apart from changing oil and filters at regular service intervals, no further maintenance is required.
Operating principle
R5 rotary vane technology is synonymous with a robust and functional construction. In a cylindrical housing, a rotor with three vanes is mounted eccentrically. Due to centrifugal force, these vanes slide out and form chambers between themselves and the housing.
The pumped medium is trapped inside these three chambers. During further rotation, their volume is constantly reduced. Thereby, the pumped medium is compressed and transported to the outlet.
R5 vacuum pumps operate with recirculating oil lubrication. A downstream oil separator segregates sealing oil and pumped medium for efficient reuse of oil.
A non-return valve prevents the pumped medium from flowing back into the process after the vacuum pump is switched off.
With its impressive track record, our R5 vacuum pump has clocked an astounding 200,000+ hours of service with minimal maintenance since it was put into operation in 1988.
Remarkably reliable even under the strain of running two shifts a day (or more sometimes) for 14.5 hours - 4,422 annually for 34 years!

This resilient machine truly is the workhorse we can always count on.
R5 RA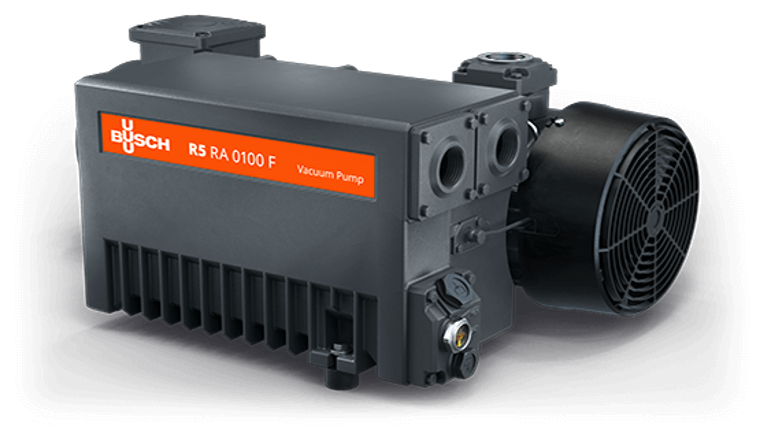 The all-rounder for countless vacuum applications
High performance
Durable construction
Designed for continuous operation
Ultimate pressure proofed
High performance vanes
Benefits of the R5 RA series
R5 RA oil-lubricated rotary vane vacuum pumps are real all-rounders. They have been designed for a wide range of industrial applications, for example vacuum packaging, food processing, pneumatic conveying, plastics processing and many more.

These vacuum pumps are characterized by high pumping speeds even in low pressure ranges and therefore rapid evacuation times.

They feature highly durable high performance vanes as standard, ensuring excellent performance and a long service life.

R5 RA vacuum pumps are designed for continuous operation. An integrated float valve regulates the oil return depending on the oil level.

Vacuum pumps of the RA series are ultimate pressure-proofed. They can be operated continuously at ultimate pressure without overheating.
R5 RA 0840 A PLUS intelligent vacuum pumps
R5 RD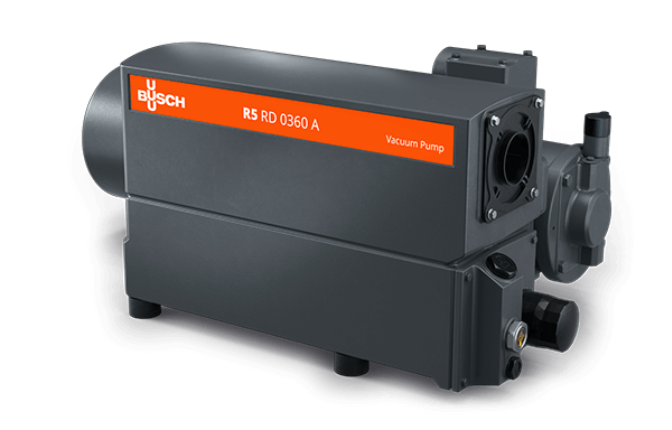 The new benchmark of rotary vane technology
Reduced energy consumption
Reduced heat emission
Improved cooling air flow
Fast service routine
Smooth surface design
Highly resilient carbon fiber vanes
Video: How R5 RD vacuum pumps work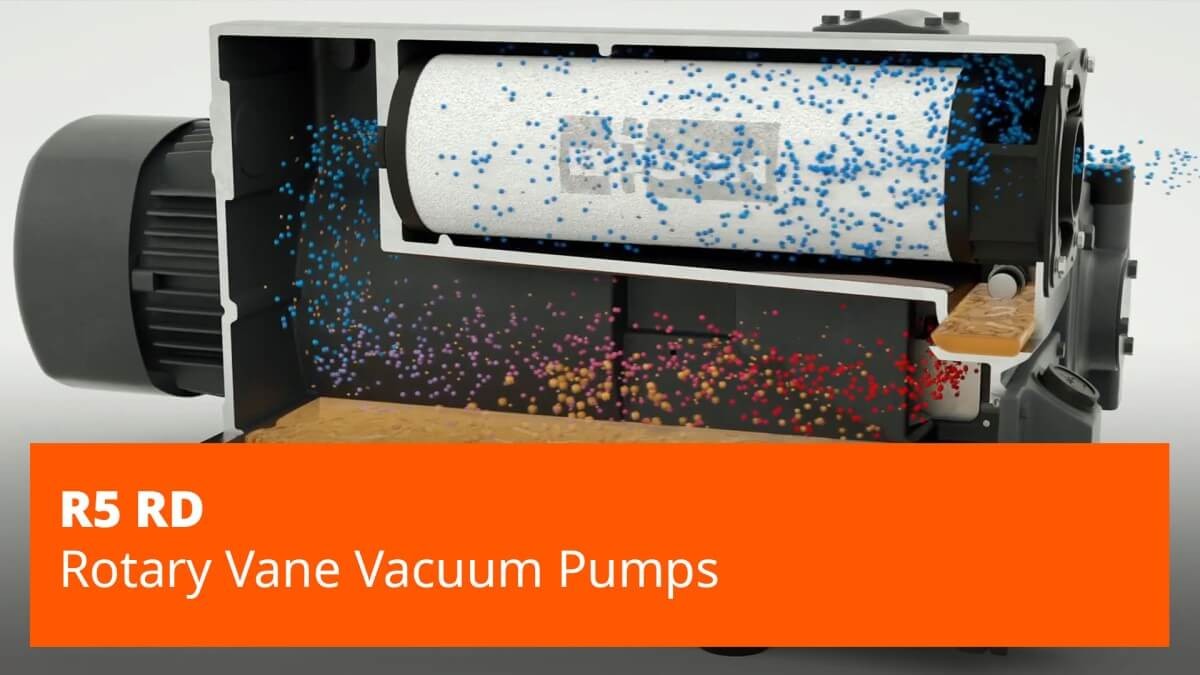 Benefits of the R5 RD series
R5 RD rotary vane vacuum pumps are the new standard for vacuum packaging. They are also well-established in a variety of other industrial applications.

High efficiency is the outstanding quality of this series. With an up to 30% lower energy consumption compared to conventional rotary vane vacuum pumps.

Heat emission has also been reduced thanks to an improved cooling air flow. Together with an optimized heat discharge, this contributes to a low ambient temperature.

All service relevant components are mounted on one side of the vacuum pump for easier access. Therefore, the service routine becomes significantly faster. And the smooth surface design facilitates cleaning.

The single exhaust filter can be replaced in less than a minute. Moreover, it provides enhanced filtration performance for best-in-class oil separation.

R5 RD vacuum pumps feature hard-wearing carbon fiber vanes as standard, ensuring excellent performance and a long service life.
R5 KB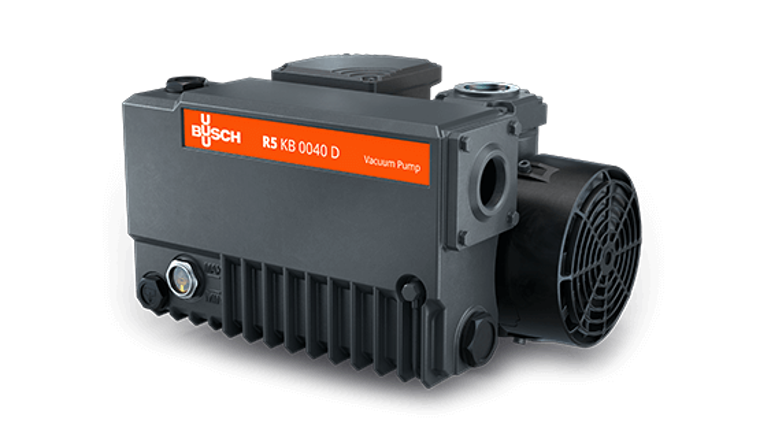 High performance for confined spaces
Small footprint
Optimum performance
Long service life
Highly resilient epoxy resin vanes
Benefits of the R5 KB series
R5 KB rotary vane vacuum pumps are characterized by their compact construction, light weight and high performance.

They are perfectly suited for installation in confined spaces, for example in vacuum packaging machines. The integrated motor and transmission make them the ideal choice for fixed installations.

R5 KB feature highly durable Busch fiber-reinforced epoxy resin vanes as standard. This ensures an optimum performance and long service life.
R5 KD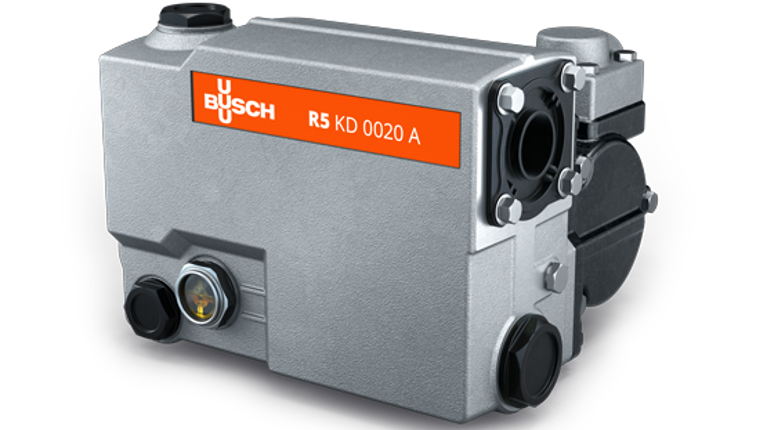 The compact solution for table top packaging machines

Compact construction
Light weight
High performance
High moisture tolerance
Effective corrosion protection
Improved temperature management
Easy maintenance
Easy cleaning
Benefits of the R5 KD series
R5 KD rotary vane vacuum pumps are characterized by their compact, light-weight construction and high performance. This makes them the perfect choice for table top packaging machines in butcheries, restaurants, canteens or supermarkets.

In table top packaging applications, a small number of packaging cycles and short operating times of the vacuum packaging machines are common. However, this can lead to moisture accumulation and corrosion inside the vacuum pump. This is exactly what the R5 KD series has been optimized for. Improved moisture tolerance and effective corrosion protection make them ideal for these operating conditions. And therefore for the packaging of humid products suchs as meat or fish.

R5 KD series vacuum pumps are equipped with a newly developed exhaust filter for faster replacement and easier maintenance. They feature an improved temperature management without any cooling fins. This ensures a smooth surface design, which makes the R5 KD easy to clean.
R5 PB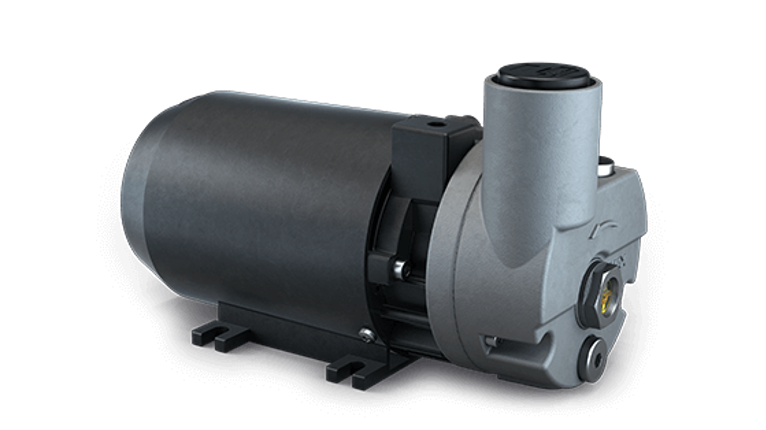 The compact solution for home use
Small footprint
Quiet
Highly durable rotor vanes
Prefilling with special oil
Ideal for food applications in deli counters or restaurants
Benefits of the R5 PB series
R5 PB rotary vane vacuum pumps are the smallest vacuum pumps of the R5 series. Their block construction with directly mounted motor permits installation in confined spaces, like table-top packaging machines. Moreover, they are characterized by their quiet operation.

This makes them the perfect choice for food applications in deli counters or restaurants. For example, for sous-vide cooking or marinating and preserving foodstuffs.

R5 PB series vacuum pumps feature highly durable rotor vanes as standard. This ensures a long service life and makes them nearly maintenance-free. A thermo-protecting element prevents the motor from overloading.
R5 RE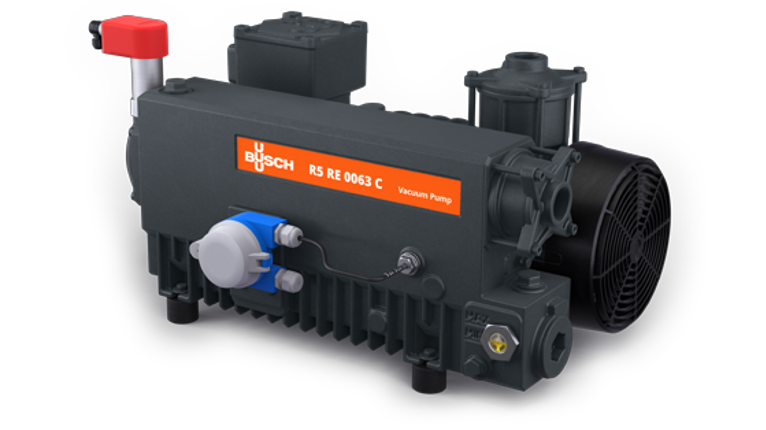 The robust and explosion-proofed solution
ATEX-certified
Explosion-proofed motor
Flame arresters as standard
Benefits of the R5 RE series
R5 RE are explosion pressure resistant rotary vane vacuum pumps. They have been specially designed to extract explosion-endangered gas/air and vapor/air mixtures.

These vacuum pumps are certified in accordance with directive 2014/34/EU for II 1G h IIB3 T4 Ga inside and II 2G h IIB3 T4 Gb outside the vacuum pump.

Their ATEX certification makes them suitable for the extraction of almost all materials in the IIB3 explosion group. They can also be used for the extraction of petrol vapor.

R5 RE series vacuum pumps are driven by a directly flange-mounted explosion-proofed electric motor. They come with flame arresters as standard.
Busch R5 Vacuum Pump Instruction Manuals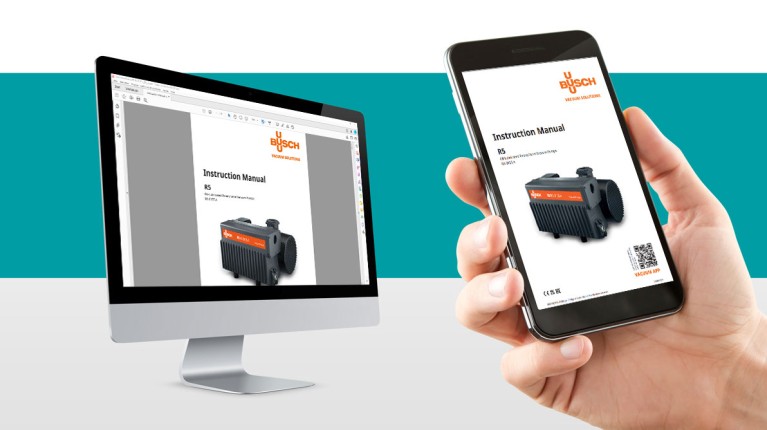 All the new Busch vacuum pumps come with a detailed instruction manual in printed or PDF format. It covers all relevant aspects regarding the installation, operation, and maintenance of your vacuum pump. Following the instructions of the appropriate manual ensures safe operation, optimum performance and long lifetime of the product.

If you have misplaced the instruction manual that came with your vacuum pump or if you are searching for a manual for a vacuum pump already in use, here is where you will find it. The official website of Busch Vacuum Solutions provides the latest version of all relevant documents for Busch vacuum pump owners. To find and download the correct instruction manual for your product, simply proceed according to the following three steps:
1. Search
Search for your product series (for example "R5 RA") with the help of our site search. You can expand the search box by clicking the magnifying glass icon in the top right-hand corner of the website.
2. Select
Select your vacuum pump model from the displayed results. If your pump model does not show up, you might be searching for a discontinued product. In that case, simply send us a brief message containing the full product name via our contact form. We will do our best to source and e-mail you the correct instruction manual.
3. Download
Scroll to the download section at the bottom of the product page and click on the respective instruction manual to download the latest PDF version.