Gas Abatement Systems
Our solution: GABA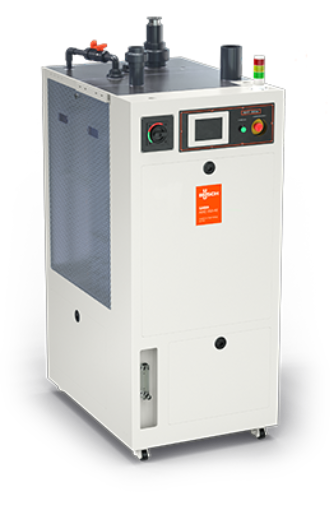 The semiconductor industry uses gases that are toxic, flammable and even harmful for the environment, but also for humans. For example, in the production of microchips. According to national legislation, these gases have to be abated. This means that they are reduced below the respective threshold limit value (TLV).

Different gases require different treatment technologies, such as thermal, wet or even a combination of both technologies. The process exhaust gases can then be released into the atmosphere. Without harming nature. For a greener world.
Operating principle
Flameless catalytic
This catalyst system combines flameless catalytic thermal oxidation and wet treatment technology to abate flammable, water-soluble gases and NF₃. Powder and water-soluble gases which can be generated during thermal oxidation will be captured in an upstream multi-stage wetting zone.
Thermal-wet
Electric heat and wet treatment technology are combined in one system to abate hydride-based gases, such as NH₃, SiH₄ but also NF₃. In the burn chamber, the chemistry of flammable and pyrophoric process gases is changed via thermal oxidation. Water-soluble gases are then dissolved in the upstream wet chamber.
Wet scrubber
In four individual reaction chambers, the exhaust gas stream, especially from epitaxy processes, is sprayed with water. Solid by-products are captured in water droplets and are dissolved. An absorber then separates water from the outlet gas stream.
GABA AWE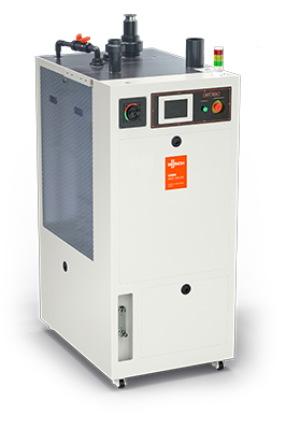 Wet scrubber gas abatement for EPI processes
Innovative wet scrubber technology
For critical EPI processes in the semiconductor industry
Patented inlet clogging preventer
Extended service intervals
No honey trap necessary to collect by-products
Frequency-controlled venturi unit
Four process inlets for connection to four different chambers
Benefits of the GABA AWE series
GABA AWE are our innovative wet scrubbers, specially developed for critical EPI processes in the semiconductor industry. They combine maximum operational reliability with the highest level of process stability.

Our AWE series is equipped with a patented noxious gas inlet that prevents the scrubber inlet from clogging. This leads to increased service life and, at the same time, to low operating costs. Maintenance is reduced to changing the inlet clogging preventer at defined service intervals. This can easily be carried out without the need to disassemble the unit.

The special design of the GABA AWE makes the separation of by-products from the production process in a honey trap obsolete. The wet scrubber can handle all process residues without blocking the gas inlet. Water-soluble by-products react in the scrubbing liquid, solids are separated as particles or pumped away with the waste water during operation.

The vacuum for the production process is provided and actively controlled via a frequency-controlled venturi unit. This ensures constant process pressure at the production plant and trouble-free operation. All process settings can be made via a programmable logic controller (PLC) with color display and touch screen.
GABA AFC
Efficient flameless catalytic gas abatement
Combination of flameless catalytic and thermal-wet gas abatement technology
Treatment of combustible and soluble gases
Excellent abatement efficiency
High temperature electric heater
Full swap system
Four process inlets for connection to four different chambers
Benefits of the GABA AFC series
GABA AFC gas abatement systems are designed to reduce or remove hazardous gases and air pollutants during manufacturing processes. Basically, they change the chemical composition of the gases. By using a combination of the flameless catalytic thermal oxidation and the thermal-wet gas abatement technology it is possible to treat both, combustible and soluble gases.

GABA AFC use a high temperature heater with heated catalysts. This allows for a perfect combustion without a flame. In order to increase the removal efficiency of the target gases, an appropriate temperature and correct operating fluids are crucial. The thermal system provides stable treatment conditions while producing substantially fewer by-products (i.e. NOx, CO2, etc.). Water-soluble gases, by-products and hot gases from the reactor chamber are then processed in the wet chamber.

To avoid contamination during maintenance, GABA AFC have been designed as full swap systems. All modules can be replaced individually without opening the chamber.

AFC series gas abatement systems come with four process inlets as standard. The system can thus be connected to four different chambers of a process tool or to multiple tools, depending on the application.