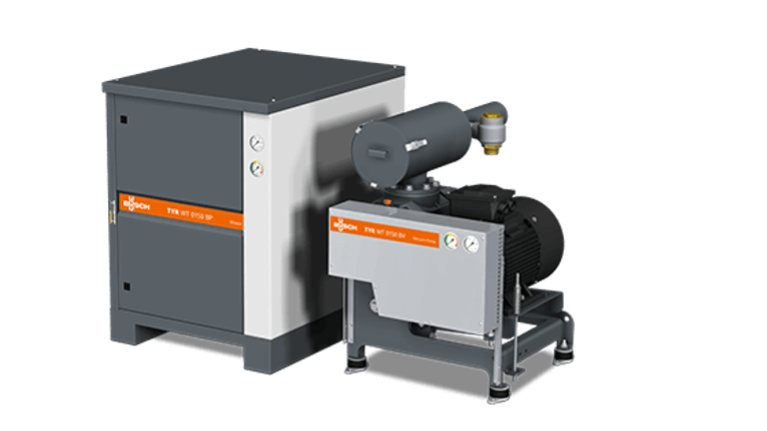 TYR rotary lobe blowers are our modern high-performance vacuum and overpressure generators. With the TYR family, we have set new standards in terms of efficiency and noise level.

They are available in a vacuum or an overpressure version. A conversion is possible at any time.

TYR rotary lobe blowers provide constant differential pressure. Therefore, they are the perfect choice for applications such as waste water treatment, pneumatic conveying or fish farming.

The various sizes of TYR blowers allow for the optimum configuration to match every process.
Operating Principle
TYR rotary lobe blowers operate according to the proven Roots principle: Two rotary lobes are mounted in parallel within the housing. These three-bladed lobes operate in opposite directions. The rotation of the lobes traps the pumped medium and transports it to the outlet. There, it is discharged through an outlet silencer.
TYR WT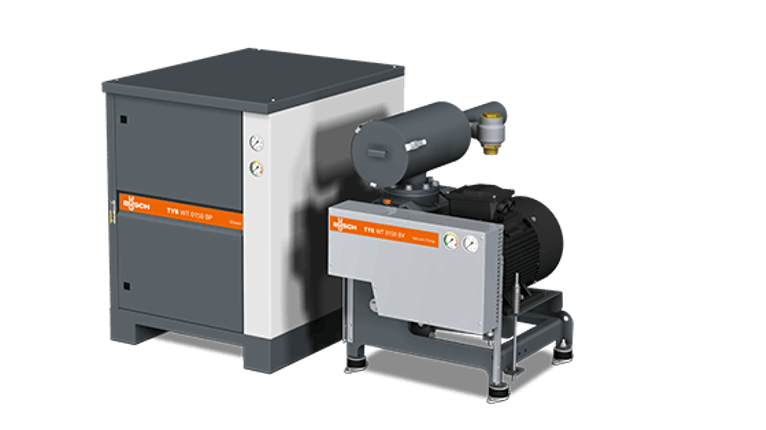 The quiet and robust vacuum and overpressure generators
Robust construction
Flow-optimized blower stages
Reduced noise level
V-belt drive
Various design options
Benefits of the TYR WT series
The robust construction and high manufacturing quality of TYR WT rotary lobe blowers ensure outstanding reliability and durability.

Thanks to their flow-optimized blower stages, they achieve high levels of efficiency.

TYR WT blowers are driven by an electric motor with V-belt transmission and efficiency class IE3. This transmission allows the blower speed to be regulated precisely. The tension of the drive belt between the motor and blower stage is maintained automatically.

The contact-free operating principle makes fluids in the compression chamber unneccesary.

Annual servicing is confined to the simple inspection of the V-belt tension and replacement of the filter and gear oil.

TYR WT blowers have an innovative acoustic insulation with integrated inlet and outlet silencers. The optional acoustic enclosure reduces noise levels by up to additional 20 dB(A).

A large number of accessories and design options allows to individually configure TYR WT blowers to perfectly match any requirement.