VACTEST
The best choice to monitor and control your vacuum process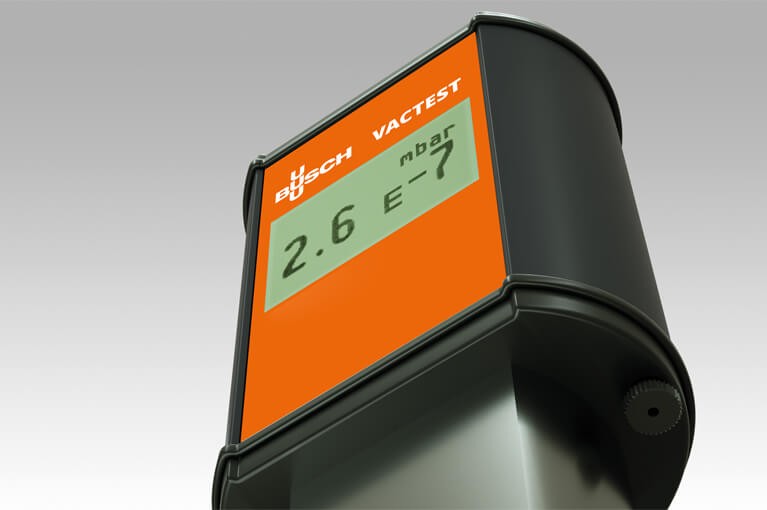 Busch VACTEST is the new shape of vacuum measurement equipment. Designed to combine the latest advances in vacuum metrology with exceptional manufacturing quality, it provides an innovative and comprehensive portfolio of active vacuum gauges and controllers.
Robust construction, reliability and measurement accuracy are key features of these devices, making them the ideal choice to monitor and control your vacuum process, whether it is in industry or research.

Several state-of-the-art technologies allow for a wide measurement range from 1600 to 5 · 10⁻¹⁰ mbar covering all vacuum levels with accuracy.

All sensors comply with international standards and regulations such as CE and RoHS. Corresponding to our extensive portfolio of vacuum pumps, blowers and compressors, we offer the right measurement technology for every process.
Your benefits at a glance
Sophisticated
Full measurement range (1600 to 5 · 10⁻¹⁰ mbar), state-of-the-art micro-controller technology
Reliable
High industrial standards, robust construction, insensitive to shock venting
Efficient
Modular design, plug and play sensor for maximum uptime
We use VACTEST to ensure that our vacuum pumps deliver the right vacuum level for our meat packaging machines. Monitoring the required vacuum is crucial for us, as it's one of the factors that determine the shelf life of our products. The VACTEST gauges are very reliable, durable and user-friendly. We can only recommend VACTEST to other companies in our industry.
Three product lines tailored to your needs
With three product lines available, Busch VACTEST meets accuracy, measurement range and functional requirements of every vacuum system or process.
Digital Transmitters
VACTEST digital transmitters are high-end gauges coming with a full range of options as standard. Their smart micro-controller architecture allows for an optimum sensor control as well as many setting possibilities making them the ideal solution for many applications.
Analog Transmitters
VACTEST analog transmitters feature a compact, rugged and functional design. Thanks to their excellent measurement accuracy and stability, these transmitters are ideal for centralized monitoring and control systems.
Mobile Gauges
VACTEST mobile gauges are the perfect handheld solution for service or vacuum process quality assurance. These battery-operated gauges offer various functions such as an USB interface for data export and visualization, a data logger and can even be used under vacuum.
Control units for simultaneous operation