BUSCH GENUINE VSD RETROFIT KITS
Give your existing vacuum pump an upgrade. Bring your process to new efficiency levels with an ECOTORQUE variable speed drive.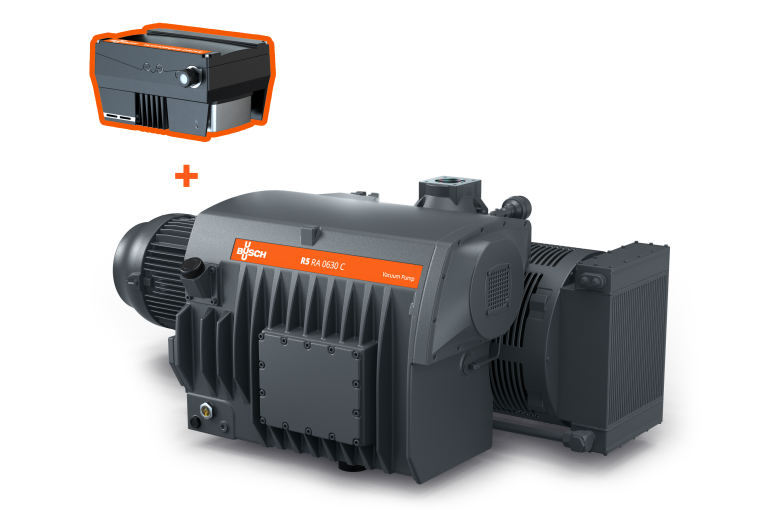 Almost every process has its quiet moments. An ECOTORQUE variable speed drive (VSD) from Busch makes sure that your vacuum pump only provides the pumping speed that is actually needed. And it gives a boost, with 20 to 40 % higher performance. Thanks to ECOTORQUE, your vacuum pump can run at 60 Hz, even on a standard 50 Hz power supply. Meaning that when your process needs an even higher pumping speed than usual, your vacuum pump can provide it.

No need to buy a whole new vacuum pump – our retrofit kits mean you can enjoy the same benefits of a VSD with your existing technology.
YOUR BENEFITS AT A GLANCE
Efficient and economical
Energy savings of up to 50% through speed control and reaction to fluctuations in demand
CO2 savings of up to 10,000 kg per year – the amount 1,000 trees would absorb
Lower maintenance costs and longer service life thanks to reduced mechanical wear
High performance and flexibility
Frequency control adjusts the pumping speed to the required level
20 to 40% higher pumping speed
Increased productivity thanks to flexible process regulation
Easy to install
Keep your existing technology – no need to replace the whole vacuum pump
Electrical and mechanical components for direct connection of frequency converter
No extra control cabinet necessary
Vacuum pumps available for a Retrofit Kit
What is included in a VSD retrofit kit?
The exact contents of a VSD retrofit depend on your vacuum pump. They always include the VSD and all the necessary electrical components to connect it. If your vacuum pump has a motor that is incompatible with a VSD (for example, if your motor is too old), retrofit kits are also available with a corresponding motor.
Which vacuum pumps have retrofit kits available?
Can I retrofit my vacuum pump myself?
We recommend having your retrofit kit installed by Busch service. Get in contact with us to arrange your installation.
What benefits does retrofitting my vacuum pump have for me?
Retrofitting your vacuum pump will reduce your running costs by making your process more energy efficient. In addition, it increases the performance of your vacuum pump.
Should I simply buy a new vacuum pump?
If your vacuum pump is on the list of available retrofit kits, there is no need to buy a new vacuum pump. This retrofit kit will give you all the benefits of a frequency-controlled vacuum pump without having to replace your existing technology.
Do I need a retrofit kit for my PLUS pump?
No, a vacuum pump from our PLUS family already comes with a variable speed drive as standard. However, retrofit kits are also available for certain models to upgrade your standard vacuum pump to a PLUS pump. Find out more about our PLUS family.
There is no retrofit kit available for my vacuum pump. What can I do?
If there is no retrofit kit for your specific vacuum pump, a tailor-made solution may be available. Get in touch with your local Busch representative to discuss your options.
Are retrofit kits for other vacuum pumps planned?
Yes, we are working on expanding our range of retrofit kits to our other vacuum products. New retrofit kits will be listed on this page as they become available.
Are retrofit kits also available for blowers and compressors?
Currently, retrofit kits are only available for our vacuum pumps.