Frequency-controlled vacuum pumps
The perfect match for your process
A variable speed drive (VSD) is a digital controller that regulates the rotational speed of a motor. It enables the pumping speed of a vacuum pump to be adapted exactly to the actual requirements of your process. The result: significant energy savings.

Busch offers a wide range of vacuum pumps with integrated VSD. With our Retrofit Kits you can easily upgrade your existing vacuum pumps.

VSD is currently only available for IEC motors.

Changing vacuum demand
Vacuum demand often varies within production processes. Ideally, the vacuum supply should be synchronized with demand. With a variable speed drive, vacuum pumps can be automatically adjusted to match variations in vacuum demand precisely. Reacting to fluctuations in demand makes considerable energy savings possible.
Operating modes
In scenarios with changing process parameters, we recommend vacuum pumps that can be controlled on a demand-driven basis and that either guarantee a consistent pumping speed or constantly maintain the required vacuum level.
For processes with constant vacuum demand, it is recommended to leave the vacuum pump running at constant speed.
For processes with changing vacuum demand over time, the pressure control mode is the ideal choice. In this case, the vacuum pump adjusts the rotational speed according to the required vacuum level. Once this vacuum level has been achieved, the vacuum pump continues to run at minimum speed, enabling it to respond to a sudden need for increased vacuum demand and leading to further energy savings.
Your benefits at a glance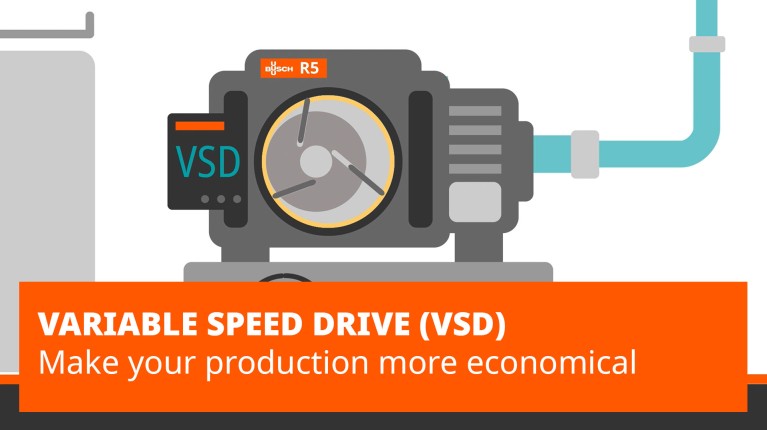 Up to 20 % more performance at 50 Hz (up to 60 Hz)
Energy savings due to adjustment of pumping speed to process requirements
Reduction of mechanical wear: longer service life
Improvement of working conditions due to lower noise level
Increased productivity thanks to flexible process regulation
VSD is currently available for IEC motors