HUCKEPACK
Once-through oil-lubricated rotary vane vacuum pumps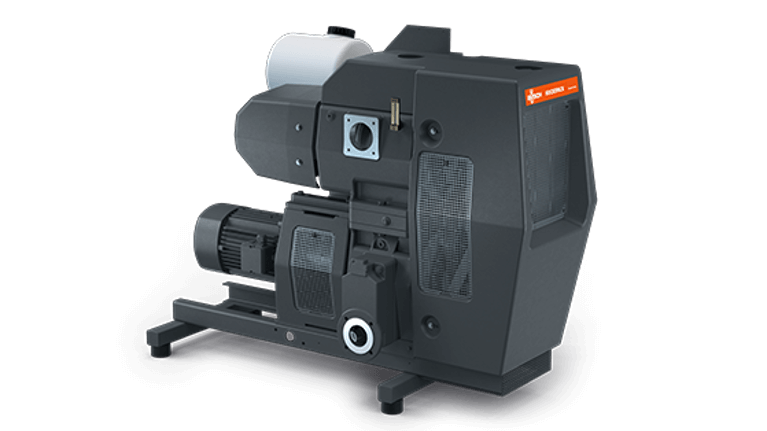 With the HUCKEPACK, Dr Karl Busch developed the first vacuum pump for the vacuum packaging of foodstuffs. This was a revolution of the packaging industry.

Furthermore, HUCKEPACK once-through oil-lubricated rotary vane vacuum pumps are the ideal choice for particularly complex processes. For decades, they have proven themselves in the toughest of applications.

Where other technologies failed, the HUCKEPACK demonstrated its robustness and operational reliability. Depending on process conditions, this vacuum pump can last for decades with only minimal maintenance.
Operating principle
HUCKEPACK is a series of two-stage rotary vane vacuum pumps. The pump stages are mounted one on top of the other. Both stages contain an eccentrically mounted rotor. The upper stage cylinder, where the compression is lower has a six-vane rotor. The lower stage cylinder has a five-vane rotor for a higher compression ratio.
Due to centrifugal force, each vane slides out and forms a chamber between the vane and the housing. The pumped medium is trapped inside these sickle-shaped chambers.
During rotation, the volume of the chamber is constantly reduced. The pumped medium is compressed and transported to the high-pressure second stage, which operates on the same principle.
HUCKEPACK rotary vane vacuum pumps use continuous fresh oil lubrication.
HUCKEPACK HO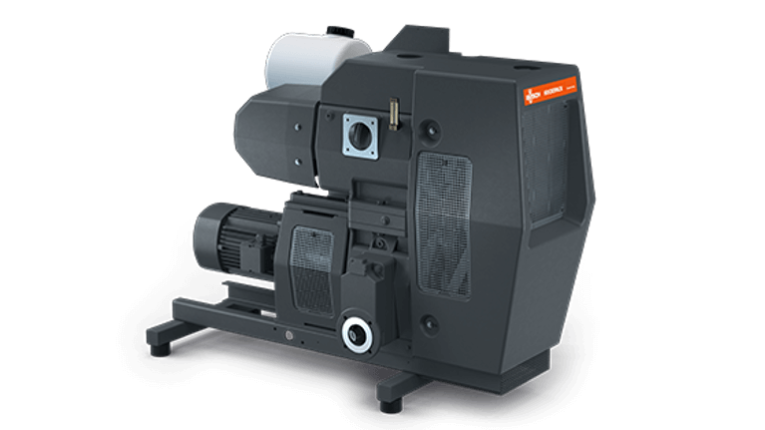 The unbreakable vacuum solution for the toughest of applications
Durable construction
Hard-wearing, highly resilient vanes
Reliable fresh oil lubricating system
Effective cooling
Customizable
Benefits of the HUCKEPACK HO series
HUCKEPACK HO once-through oil-lubricated rotary vane vacuum pumps are the most rugged and reliable vacuum pumps. They have proven their reliability and adaptability for years in food processing, chemical and pharmaceutical processes, plastics processing and many other industrial applications.

Their durable construction makes HUCKEPACK HO vacuum pumps extremely vapor- and particle-tolerant. Thus, they are suited for harsh process conditions, including aggressive substances.

The carbon fiber composite vanes specially developed and produced by Busch have emergency running properties. They ensure operational safety and high performance even with insufficient lubrication.

HUCKEPACK HO vacuum pumps are equipped with a recirculated water cooling system as standard. The integrated cooling channels allow to adapt the temperature to every process.